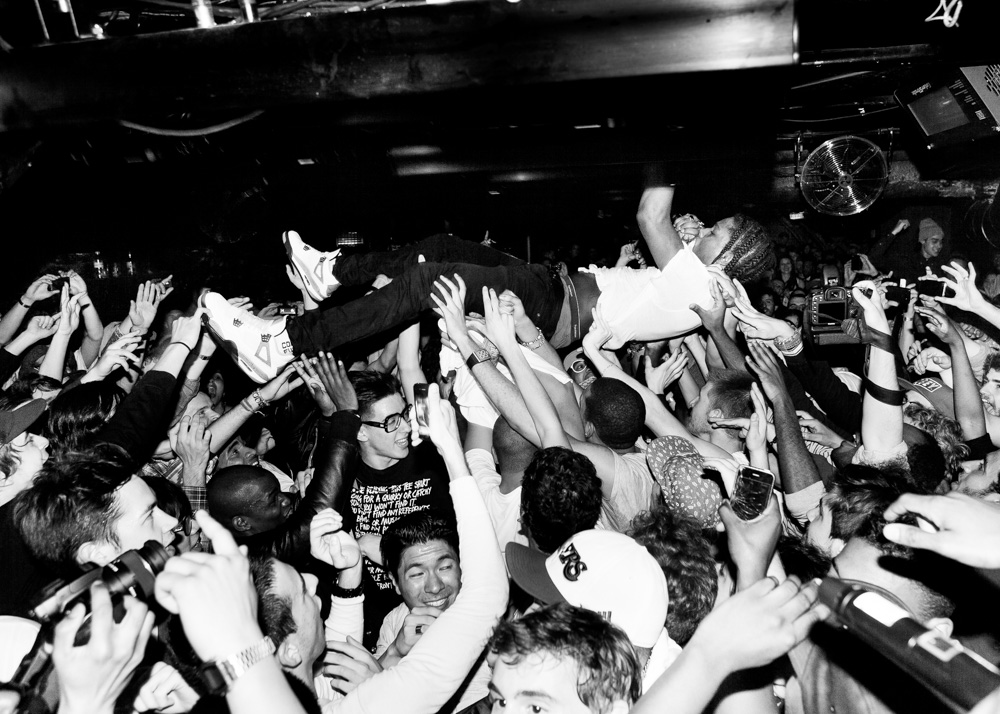 We are in 2012, and this is Asap Rocky at the Social Club
Pretty Flacko is in Paris for his first france live show, and well, he just signed a big contract with Sony, the perfect timing for a non-sense celebration in the french way of all those $$$. Everyone is here, Ferg, Yams and all the Mob friends from New York. We did a shooting with Julot Bandit on the afternoon for the WAD Magazine, the perfect moment to chill and smoked some way too strong weed blunts with the boys before the big time.

This is my last memories of the Social Club as I knowed it, packed, extremely hot, completely insane and loud. The backstage is fill with thugs and Dom Pérignon bottles, somehow I'm the only one with a camera allowed there, in a dirty room, the size of a shoebox.

Imagine now Asap Rocky in a club of 700 peoples, not more, this picture is the summary of this day and night with the crew. At the middle of the concert, Rocky jumped on the crowd, I'm on stage with him and Ferg, and I don't know how this miracle happened, I've just point and shooted only one picture of this time, without even looking inside the camera, and the vibe there did the rest.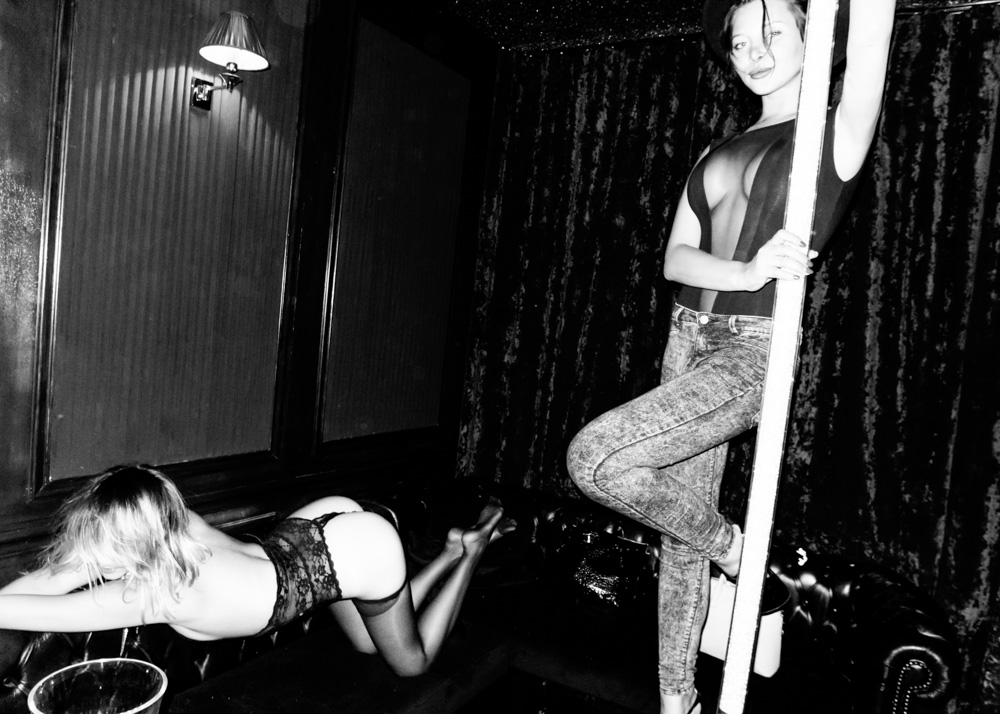 We are in 2014, and this is Laura and Anna Polina at the Pink Paradise
I've been to strip clubs 3 or 4 times in my life. There is no real culture of it in Paris, it's mostly for tourists, and they really don't like cameras. But me and some friends are in touch with a crazy PR girl and she is inviting us to the re-opening of the place, before owned by David and Cathy Guetta.

I get inside, with my camera, it seems to be tolerated tonight, well… kind of, but i'm taking my chance. Champagne poppin', it's like being in a hip hop music video with weird guys and fake boobs all around, make it rain !
Suddenly, I got a text from Anna, asking me what's up tonight and at the same time, Laura, one of my first unpredicted The Night Day model showing up in front of me, and i really like this kind of coincidence. One hour later, i'm basicaly the only guy hanging out with two girls, and not paying for it.

It's late, really late, and just before going out of the club, we see a little entrance, running into it, actually just sneaking into the private dance space, completely fordidden access. No one is there, and we start a private shooting in 5 seconds. The girls are going crazy inside, i'm trying to have a good angle in this tiny space, climbing on the seats, Laura is on the couch getting undress, and Anna starting a pole dance, until 30 seconds later, the old grumpy lady heard the laugh and decide to come to pull us out like we have 5 years old, the age we have at this precise moment.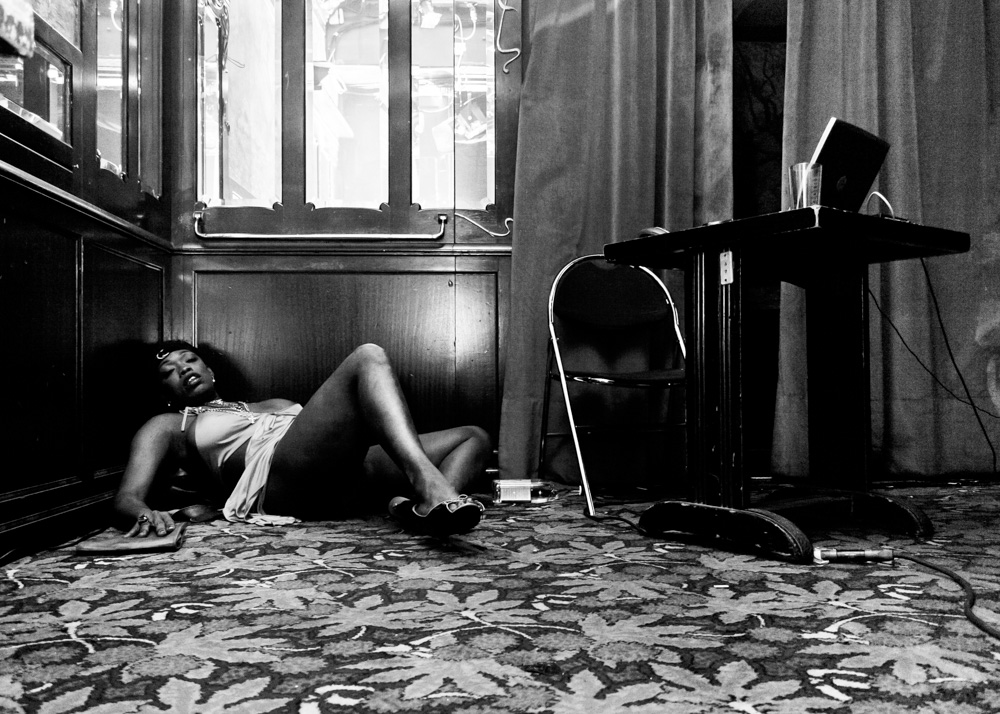 We are in 2006, and this is my very first nightlife picture
I don't know Sylvie Chateigner yet, but my friend Amnaye Nhas invited me to the Supernature at Le Maxim's. He said "bring your camera" and he is enough convincing to Sylvie to let me in with it. She don't want any photographers to her parties, and she's right, she wants a full freedom for peoples coming there, you can do what you want, and there is nothing to be shame of, now of later.

After years as a Cheers kid at la Coupole, I'm here, completely fascinated by this crowd, a perfect mix of genders and styles, something i've never really seen, François Buot is the guardian of this incredible procession, inside one of the most beautiful places of Paris, and DJ Gregory is the music priest.

First I am complety shy, completely blocked. It's hot, I mostly don't know anyone, peoples are getting more and more excited, the music is so good and I definitely need a good drink to shut down this fear of something.

And I don't remember how it happened, Christine was there, with some friends, I was totally fascinated and she looked at me in a way that I understood "it's all ok, you can shoot, and you can shoot me". It was a matter of seconds.

So I've took my courage, went complety into it, not saying a word, i've just followed her and she started to do a private show for me and everyone, she climbed the 4 stairs of the DJ booth, mostly felt, stayed on the floor, pulling her back into the wall to get up, looking at me and that's it, it was it, and it was one of the most incredible feeling in my life, the very beginning of The Night Day and somehow the start of my carrer as a photographer.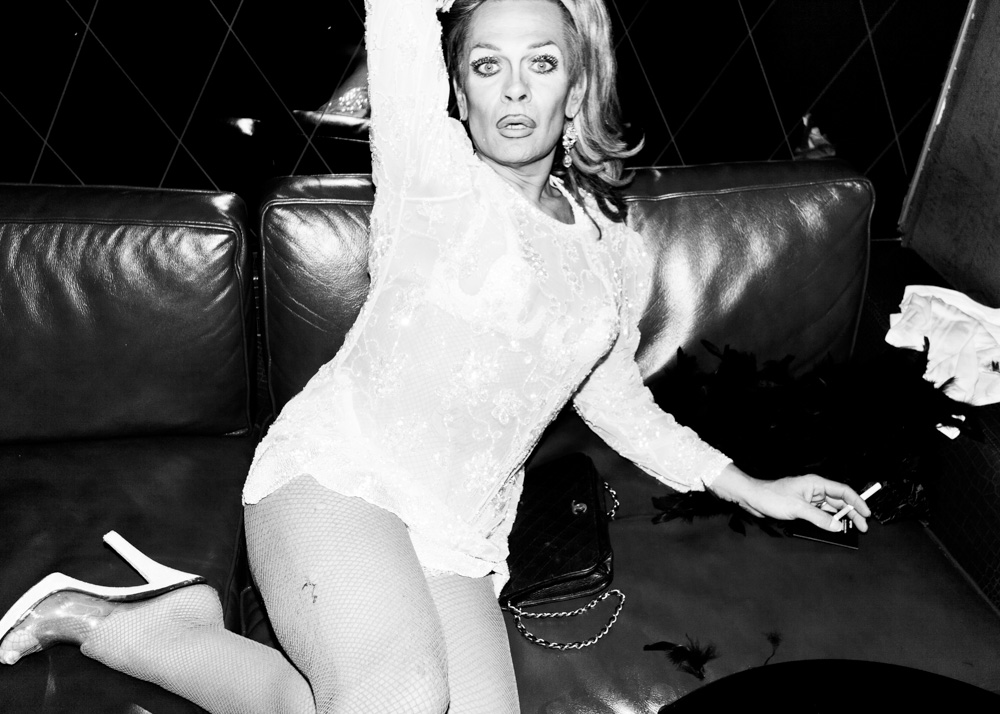 We are in 2011, and she is La Bordelaise, Chez Castel
I hate Halloween and I'm not in the mood to go out, but two of my friends Mélusine and Ornella tell me about a party I don't know yet, La Club Sandwich, tonight. It's a gay and queer party, any genders are welcomed, until you are here to party and to be who the f**k you want to be, that's what I've learned after that night.

The place is Chez Castel, one of the oldest and most private club in Paris. I love this club in my dreams, because I can never get in. There is rich and famous peoples, they don't want any cameras, it's a members club, I'm no one, period.

I put my all black everyday costume and to make a effort, a luchador mask. The girls are already inside. It's crowded, but with peoples out of this world, dressed up or not, make-up everywhere, high heels, and I'm talking about the boys here.

I'm finally in front of the door, and magical moment in my life, the woman who is normaly blocking me to get in, she just don't recognize me with the mask ! I got a first foot in, but another door man see my camera and he said : "Ok you come in, but you have to put your camera on the cloackroom". Ok, I'm trying 30 seconds to talk and explain to him that I'm a photographer and I got a project blablabla…, no way. I give my camera to the girl, and I start walking down the stairs to the dancefloor, pissed of but excited, I'm finally inside.

The feeling I got at this moment was something so intense. Imagine discovering a club, packed with 2 meters tall boys dancing on high heels and dressed with weird halloween whore costumes. I'm in the middle of hundreds of queers, transexuals, lesbians, in fact, it was impossible to define a specific gender, that was amazing.

I'm completely and happily shocked by where I am right now, but shit, my camera ! For couple of minutes or maybe hours, i'm trying to shoot with my 2011 iphone, maybe a 3 or a 4, it's bad, the flash is bad, and i'm missing all the perfect pictures I just got in front of me. So I'm running to the cloakroom, I'm drunk and the girl is there, I charm her with my story plus some cute bad vodka jokes and yes, by some magic that night it's working, just enough to take back my camera, avoiding the door man inside, and to run back into the pit.

At this time people were starting to fuck on the dancefloor, everything was dark and hot, the music was amazing and loud, It was a pure moment of grace, and I'm just here, shooting all I can before the end. At one moment it's around 6 in the morning, and I just stop myself in front of an amazing creature I can't barly see, point and shoot. Years later, someone told me her name: La Bordelaise.